Sally Martin
1961-2018
Sally Martin was born in San Bernardino CA. on October 28, 1961 and passed away at her home on April 18, 2018.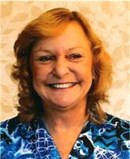 Sally was one of two daughters born to Mary Reush and William Elko. She is survived by both parents and Sister Susan Adams. Sally was a graduate of University of San Bernardino, with a Bachelor of Arts in Psychology.
Sally moved to Bishop, CA in 1993 where she worked at Mammoth and later at several places in Bishop. She loved the outdoors and participated in the dart league and other city activities.
She was a life time member of the Veterans of Foreign War Auxiliary. Sally will never be forgotten and will be dearly missed.
A memorial service will be held at Bishop VFW Hall at 1:00 PM on Sunday, April, 29, 2018 for family and friends. Donations can be given to the Bishop VFW.