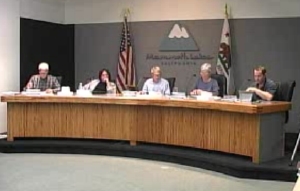 With an argument that they have excluded the less wealthy in Mammoth Lakes from a seat on the Town Council, a majority of members voted to proceed to raise the $300 per month pay to the Government Code allowed $735.
Town Manager Dan Holler said he and the staff have had questions about the Council pay from some who would run for office. He said the salary was set in 1985 and never raised. He added that Councilmembers do receive health insurance. On average, Holler said, about $17,000 per year. He made it clear that under State law for a city of Mammoth's size, the pay can go up 5% per year. That would allow the Council to raise the monthly pay to $735, which is 5% for 29 years. The other options called for a ballot measure or switching to a Charter City. Town Attorney Andy Morris called the charter option  "swatting a fly with a battleship."
John Eastman made it clear he would not support a pay raise. Matthew Lehman said he was "very supportive." He said, "This is not to make money but prevent a Town Council member from losing money. There are a lot of people," said Lehman, "of certain demographics who want their voice heard. They are discouraged if they spend so much time that they lose money." Councilman Lehman said this would encourage younger people, and a different spectrum of people, to run for office.
Michael Raimondo agreed. Jo Bacon said it's like a job running a corporation at very little salary. Said Bacon, "I agree totally with Matthew Lehman." Mayor Rick Wood said the pay raise would amount to a $30,000 budget increase. Said Wood, "I don't want to do this until we have a budget discussion. Jo Bacon pointed out that if the Council waited until budget time, a vote on a pay raise would not take effect until June of 2016. If they voted immediately, the pay increase would become effective after this June's election.
Eastman said it sends the wrong message to the Town Staff and to the community. Said Eastman, "We have a tremendous population of workers for whom things are not going well." He named three years of below normal precipitation and the recession. Said Rick Wood, "We don't run for Town Council for the money."
Matthew Lehman said he agreed but held his ground on "another demographic that can't afford to hold office." Lehman made a motion to move forward with a pay raise to $735 per month that would be "effective as soon as legally possible." Jo Bacon offered a second. The motion passed on a 3 to 2 vote with Eastman and Wood voting no.