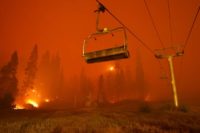 "The entire city of South Lake Tahoe and surrounding areas along the west and south shores have been ordered to evacuate due to the raging Caldor Fire, which has been creeping toward the lake for more than two weeks since igniting near Pollock Pines." reported the Sacramento Bee, today.
South Lake Tahoe has 22,000 residents and they have been ordered to Evacuate. That goes along with the 30,000 people already evacuated from the eastern half of El Dorado County.
At 11 a.m, Aug 30., a mandatory order for all residents to evacuate was put in place.
The Caldor Fire, which is 14% contained, has destroyed more than 470 structures and damaged 39 others, according to CalFire. More than 3,500 firefighters are working to control the blaze, which left five people injured
More information as we get it.