In October, the Inyo District Attorney filed charges against four people in relation to a fight at Rusty's Bar in Bishop in May. A scheduled arraignment for last week was continued.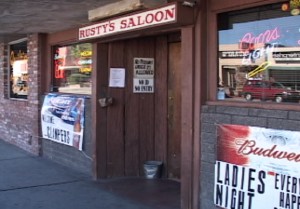 Two Mammoth Police Officers face misdemeanor disturbing the peace charges – former Officer Eric Hugelman and Officer Dan Casabian. The DA had earlier reported that an investigation revealed a verbal fight had escalated into a physical fight just outside the bar.
In addition to the two Mammoth Police Officers, the DA filed disturbing the peace charges against Kehley McKenzie and Cody Coffman of Bishop. Ms. McKenzie also faces two counts of misdemeanor battery.
District Attorney Art Maillet said that the arraignment was continued to turn over a lot of discovery material to attorneys representing the four defendants.