It's less about what leaders want and more about what the people want. Mammoth Mountain CEO Rusty and others have come up with an idea for the community – a way to agree on a template for downtown Mammoth and get ready for a change in market dynamics.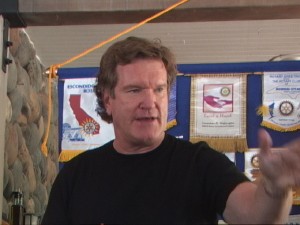 Our Cleland Hoff was there when Rusty Gregory talked to the Mammoth Lakes Rotary Club about what he called a vision or rather "hallucination" of what downtown Mammoth can be.
He said, "I think if we can make more sense of what we as a community want and direct our leaders to get us there, I think we will be a lot more successful.
Gregory reassured the lunch crowd that the Village at Mammoth will come back as a thriving retail center even though difficult times have beset it. The infrastructure is there, he said and it's close to the ski area.
On his new plan of today, Gregory said a key part is a new gondola downtown – a promise from the Ski Area.
The new plan also includes more open space and play fields, specific areas for entertainment, shopping, and dining. Old Mammoth Road would include a two-story parking garage, surrounded by retail and housing. Make major changes in the highway through town. Gregory challenged the town's people to make it more clear what they want. "We've got to get our act together," he said. He offered a template for discussion that would go to the Town Council so when money comes back into the economy, Mammoth Lakes can move. "We can take a great community," said the CEO, "and make a great, physical town."
Gregory said if things went perfectly, the community could finalize the new plan over the winter, formalizing it into district plans followed by zoning and develop through re-development. Gregory said this could come together in a year or so.
Meanwhile, he will share his plan. Gregory will present the plan at more public meetings and with local officials and citizens.