The more than $30 million Hot Creek judgment against the Town of Mammoth leaves a large question mark over the future. Town leaders have asked the public not to panic and to wait for developments. Mammoth Mountain CEO Rusty Gregory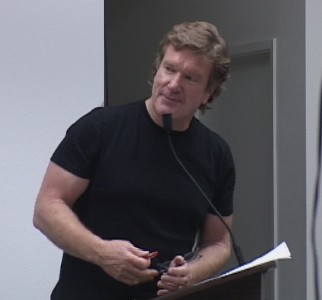 said he is disappointed in the outcome of the appeal but feels it's a time to sit tight.
To those who may blame Mammoth Mountain for the push to expand air service and use FAA grant funds that led to issues with Hot Creek, Gregory said the Mountain, the Town and many others had worked to expand air service for many years before Hot Creek ever came along.
Gregory said he is disappointed in the outcome of the appeal, but he said that in the long run he believes this will prove to be a hiccup not a brick wall. As other officials have, Gregory said Mammoth is a town of strong opinions that may try to establish blame for the situation. He urged everyone in town to pull together at this difficult time.
I asked Gregory if he knew anything about the position of the investors in the Hot Creek development. Mark Rosenthal is one of two managers of Mammoth Lakes Land Acquisition, LLC which owns the Hot Creek development agreement. Rosenthal is also CEO and Presisdent of Raleigh Enterprises, one of the investors in the land acquisition.
Gregory said he has met Rosenthal. "I haven't heard anything from Mark recently. I know him. He's a nice guy, a very astute businessman. He saw a business opportunity in Hot Creek and in this litigation and is proceeding on that basis. I think that time will tell exactly how he and the Town of Mammoth Lakes deals with this issues going forward."