LikeInyo County, rural Nevadans face pressure from thirsty urban water users that want to pump groundwater for export.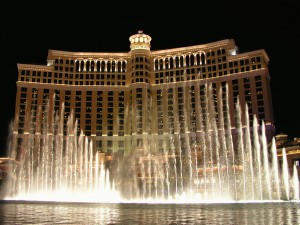 At the Inyo Supervisors meeting Tuesday, representatives from the Central Nevada Water Authority came to ask for advice in their ongoing struggle to keep the pumps at bay.
(Las Vegas water use grows.)
Rural counties like White Pine, Lincoln, and Elko Counties are facing pressure to allow groundwater pumps to export water to Las Vegas and Southern Nevada. Steven Bradhurst, the Executive Director of the Central Nevada Water Authority explained that his group is trying to protect their lifestyle and environment, saying that, We believe rural Nevada has a right to a future.
Right now, Bradhurst explained, the Southern Nevada Water Authority that represents Las Vegas, has focused on White Pine County and the area around Ely. The plan is to spend $4 billion on a seven foot diameter pipe to carry the water south. With more people expected to move into Clark County and Las Vegas, Bradhurst said that people can see their future going into the pipeline.
Bradhurst didnt blame the federal government, or state officials for the growing pressure to find more water. He blamed local politicians and decision makers, as they were the ones who sign off on land use plans that allow areas to grow beyond their water means. It sets off a feeding frenzy, he says.
Nevada doesnt have a state environmental quality act like California, but there is a state engineer who has the power to decide who can pump groundwater and where they can pump it. In order to approve a groundwater pump plan the engineer has to make certain findings. Bradhurst explained that with the help of former Inyo Water Director Greg James, he was able to pressure the state engineer into adding additional findings to the list. In order to approve a pump plan now, the engineer has to leave enough water in an area to sustain the environment and allow for economic growth.
At the request of the Central Nevada Water Authority, Inyo Supervisor Linda Arcularius and a staff member of the Inyo Water Department are expected to head to Tonopah Nevada, in June, for a meeting of the water authority.