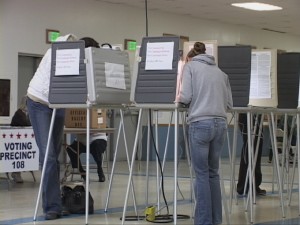 In the June Primary Election, Eastern Sierra voters can choose members of the Boards of Supervisors, Mammoth Town Council members and other elected officials.
Before the new year, Clerks in both Inyo and Mono Counties let citizens know petitions for signatures in lieu of filing fees were ready to pick up. Some officials acted immediately. In Mono County, appointed Sheriff Ralph Obenberger took out papers for his election. Two people took out petitions to run for Assessor in Mono County – current Assessor Bob Musil and candidate Barry Beck. The seats of Supervisors Larry Johnston in District 1 and Supervisor Byng Hunt in District 5 are also up for election. These districts are part of Mammoth Lakes.
In Inyo County, Assessor Tom Lanshaw says he will not seek another term. He will retire, he said, after some 16 years of service. Bishop City Councilman Dave Stottlemyre has taken out petitions to run for Inyo County Assessor. David Tanksley took out petitions to run for District 1 Supervisor, a District long held by Supervisor Linda Arcularius, who had indicated she would not seek another term. Supervisor Rick Pucci has taken out papers to run for re-election in District 3. Superior Court Judge Brian Lamb took out petitions to seek re-election to his seat.
Also, at last word in Inyo County, Auditor-Controller Amy Shepherd took out papers to run and so did County Clerk Kammi Foote, District Attorney Tom Hardy, Public Administrator Patricia Barton, Sheriff Bill Lutze, and Treasurer-Tax Collector Alicia McMurtrie. At last report, they had no challengers. Seats for Areas 1, 2, and 3 on the Inyo County Board of Education are also up for election.
Declaration of Candidacy forms and Nomination papers can be filed with County Clerks beginning on February 10th through March 7th. Contact Clerks' offices in Bridgeport and Independence.
As for the Mammoth Town Council race, the seats of Matthew Lehman, John Eastman, and Rick Wood are up for election in June. According to Town Clerk Jamie Gray, paperwork to run for those seats becomes available at the Town of Mammoth Clerk's Office February 10th.