A great sight through the Eastern Sierra on Saturday – a few dozen motorcyclists in the Eastern Sierra – it was the Run for the Run, Vietnam vets riding thier mototcycles from Washington State down Highway 395 en route to Rancho Cucamonga, then heading to Washington DC for the Run for the Wall.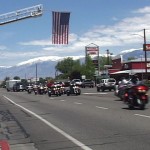 The group was escorted into Bishop by law enforcement, and the Bishop Volunteer Fire Department had a large American flag to greet the riders.
People lined Main Street as the motorcyclists came through the City of Bishop – the group stopped for lunch at Denny's before resuming the ride to southern California, where approximately 1,500 veterans will be leaving for a 12-day trip to Washington, DC for the annual Run For the Wall ride.
This is the 25th annual Run for the Wall. On Memorial Day the group will be meeting up at the Pentagon for a demonstration ride through the Washington Mall and ending up at the Vietnam Memorial Wall.
Once in DC the run will join the Rolling Thunder ride. Last year there were approximately 700,000 motorcyclists from all over the country and world there.
Sierra Wave Median thanks retired Mammoth Lakes Police officer and Vietnam-era veteran Jim Gustafson for the information – and we salute the motorcyclists in the Run For the Wall.