UPDATE: 5 PM, CAL FIRE
7,000 acres, 75 percent contained; cause under investigation; no immediate threat to structures
Four firefighter injuries
35 fire engines, 28 hand crews, 1 helicopter, four bulldozers, two water tenders, 500-plus personnel
Southern California Edison making good progress on utility rebuilding
Possible resident entry early Monday afternoon
###
UPDATE: 8 AM
http://gis.mono.ca.gov/roundfire
Bishop Veterinary Hospital is offering free boarding – please call 760-873-5801
Last Updated: February 8, 2015 7:45 am
Date/Time Started: February 6, 2015 2:07 pm
Administrative Unit: CAL FIRE San Bernardino Unit
County: Inyo and Mono counties
Location: Westside of Highway 395 at the Sherwin Grade
Acres Burned – Containment: 7,000 acres – 65% contained
Structures Destroyed: 40 residence & outbuildings. 5 residences damaged
Evacuations:
The Towns of Paradise & Swall Meadows remain under a mandatory evacuation.
An evacuation center has been established at the Crowley Lake Community Center:
458 S. Landing Rd Crowley Lake, CA 93546
Road Closures : Entry into both towns, Paradise and Swall Meadows.
Injuries: 3
Cause: Under Investigation
Cooperating Agencies: US Forest Service, Paradise Fire Department, Inyo County Sheriff, Mono County Sheriff, CHP, CalTrans
Total Fire Personnel: 500
Total Fire Engines: 35
Total Fire crews: 29
Total Helicopters: 1
Total Dozers: 4
Total Water Tenders: 4
Conditions: The forward spread of the fire was stopped early Friday morning after erractic winds pushed the fire down into the communities of Paradise and Swall Meadows.
Evacuations still remain in effect as downed powerlines make re-entry hazardous for homeowners. Trees damaged by fire are being assessed and tagged as hazards for removal.
For additional resources visit County of Mono.
Link to Round Fire Perimeter Map
Phone Numbers (909) 881-6949 (Fire Information Line)
####
The Round Fire has destroyed 40 structures and outbuildings, burning 7,000 acres and was 50 percent contained as of 5 p.m., CAL FIRE is reporting.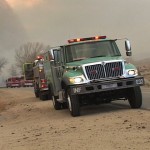 A community meeting was set for 6 o'clock tonight at the Crowley Lake Community Center.
The Fire Information Line is (909) 881-6949.
The cause of the fire, which began just after 2 p.m. Friday, is under investigation.
Paradise and Swall Meadows are still under mandatory evacuation.
CAL FIRE is reporting 200 personnel, 47 engines, 29 fire crews and two bulldozers were on scene. One injury to a firefighter due to smoke inhalation was reported.
Significant rain stopped the forward rate of the fire around 2am. Downed power lines and venting propane tanks make re-entry for residents dangerous
Cooperating agencies are the USFS, Paradise Fire Dept., Inyo County Sheriff, Mono County Sheriff, CHP, LADWP, BSHOP Fire, Big Pine Fire, Independence Fire, Lone Pine Fire, Long Valley Fire, Wheeler Crest Fire, Edison and CDCR.