By Deb Murphy
The prosecution continued to connect some of the dots during the fourth day of testimony in the embezzlement trial of Dawndee Rossy.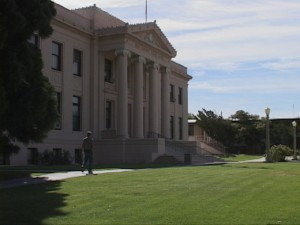 District Attorney Tom hardy called two witnesses to verify the date and time stamps on surveillance videos from Manor Market and Alta One as well as one of the investigators on the case.
Daniel Jacobs, an employee at Manor Market who managed the store's technical systems explained the computers and cameras were synced by a government time service. Jacobs testified he was told by law enforcement the content, date and time on the tapes they were looking for.
The surveillance tape shows Rossy's husband, Ken Rossy, at the ATM as well as other areas of the store.
Alta One's Security and Facility Coordinator James Kaisor, who started with the credit union in 2014, went over the operation of the credit union's motion-sensor cameras and verified the location of video taken at the Bishop branch drive-up and walk-up and the Lone Pine branch walk-up ATMs. The videos were recorded in December 2012 and January 2013; the date and time of the drive-up ATM in Bishop were not identified in the testimony.
When defense attorney David Evans asked if Alta One was given a description of what they were looking for when the videos were requested, Kaisor said he had not received the request but the credit union should have a record.
Richard Beall, an investigator from the DA's office, had been tasked with running down 16 addresses as part of the Rossy investigation. Twelve of those addresses, in Bishop and Big Pine, did not exist; four were multi-unit buildings that did exist, but the addresses Beall ran down did not include an apartment number.
Beall testified he initially did a drive-by on the 16 addresses, then followed up with a proprietary law enforcement database.
The trial was recessed until Monday morning.