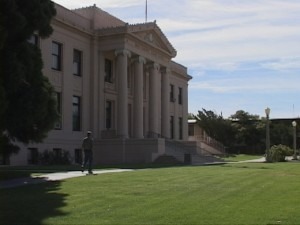 The October 6th trial date for Ken and Dawndee Rossy was vacated as the court waits for Ms. Rossy to obtain new counsel. This Bishop couple faces charges of embezzlement of $1.5 million in Inyo County welfare funds.
According to public record, last month, Michael Berger, lawyer for Dawndee Rossy, was granted a motion to be released as her attorney. Rossy has applied for a public defender. That move effectively vacated the October 6th trial date. Mr. Rossy continues to be represented by Attorney Gerard Harvey.
District Attorney Tom Hardy confirmed that the case is on calendar for October 22nd. At that time, there may be appointment of new counsel for Ms. Rossy and re-setting of a new trial date.
The Rossys were originally arrested in April of 2013. At that time, they faced charges of grand theft by embezzlement, embezzlement of public funds, grand theft of personal property, misappropriation of public funds by a public officer, welfare fraud, conspiracy to commit grand theft, 31 counts of identity theft and other charges.
Dawndee Rossy had been terminated from her job in the welfare office in February of 2013. The Rossys had entered pleas of not guilty and have denied all allegations filed against them. In November of last year, DA Tom Hardy had said the total charges against the couple numbered 213 felony counts.