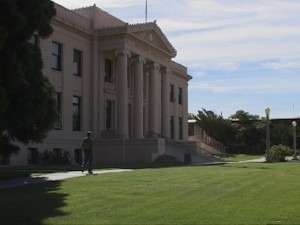 In news of current court cases, a decision came in Monday on an effort to suppress evidence in the case of Dawndee Rossy, accused along with her husband Ken, of embezzlement of $1.5 million of Inyo County welfare funds.
Rossy's attorney Michael Berger had earlier filed a motion to suppress certain video recorded statements made by Ms. Rossy to investigators. The hearing on that motion concluded in March. Monday, District Attorney Tom Hardy said the judge denied the motion to suppress evidence. Hardy said, "In a 20 page ruling, Judge Argento ruled that evidence from the January, 2013 interview of Ms. Rossy is admissible at trial." Earlier, the DA said a trial date for the Rossys was set for October 6th.
In the case of former Fairgrounds employee Rebecca Bragdon, a preliminary hearing is set for August 21st. The District Attorney had filed a felony complaint against Bragdon, alleging embezzlement, misappropriation of public funds, two counts of forgery, one grand theft charge for alleged misuse of Fairgrounds credit cards and one count of misdemeanor petty theft related to an iPad alleged to have been taken. Status conferences are also set for June 18th and July 30th.
And, in the case of Cherie LaBraque, a former Northern Inyo Hospital employee, a status conference and trial setting are scheduled for June 2nd. LaBraque faces 32 misdemeanor charges of knowingly accessing confidential medical records without permission.
Hospital officials had earlier said when they became aware that LaBraque had accessed confidential files, she was fired.