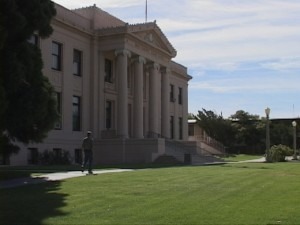 Once again, an arraignment hearing for Dawndee and Kenneth Rossy was postponed. A visiting judge was not available Tuesday to hear the scheduled case, and Inyo's two Superior Court Judges have been disqualified. Also, Dawndee Rossy is getting a new attorney, and a new arraignment is now scheduled for November 14th in Bishop Court at 1pm. (Originally scheduled for Independence, but visiting Judge requested Bishop.)
Assistant District Attorney Joel Samuels said Dawndee Rossy will substitute a new attorney in her case. Gerard Harvey had previously represented both Rossys.
A month ago in a preliminary hearing, both defendants were held to answer to nearly 60 charges. The DA has alleged that the couple embezzled $1.5 million from the Inyo Welfare Department, stole identities, conspired to steal, and filed false or no tax returns, among other charges.
District Attorney Tom Hardy had said in mid-October that following the preliminary hearing, a charging document was filed that alleges a total of 213 felony counts on the two defendants. He said the new charges "allege the filing of false documents in public files as part of the alleged scheme."
Independent of the other charges, Dawndee Rossy was cited for driving under the influence. Since their arrest in April, the Rossys have remained out of jail on GPS monitored ankle bracelets at their home.