Press release
Superintendent of Schools Lisa Fontana is pleased to announce that Rose Bracken from Home Street Middle School won first place in the Inyo County Spelling Bee, sponsored by Altrusa.
Rose also won in 2016.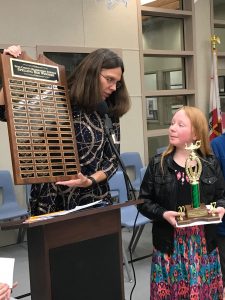 Twenty students from local elementary and middle schools participated in the 2016-17 countywide Spelling Bee at Jill Kinmont Boothe School.  The winners of the competition were:
1st Place Rose Bracken (6th) Home Street Middle
2nd Place Mahdi Ayman (8th) Home Street Middle
3rd Place Jodie Bedore (4th) Round Valley
After much fierce competition with words like contumelious, cirriped and firkin, the winning word was: blitzkrieg.
The spelling contestants included: Ashley Fitt from Big Pine; Mahdi Ayman, Rose Bracken, Cooper Beard, Brandon Gardea and Lyndsey Rowan from Bishop Schools; Steven Allen, Marlene Castro, Madi Harms, Orion Nash, and AJ Wilder from Owen's Valley; and  Rylee Arcularius, Tylar Banta, Jodie Bedore, Elizabeth Ellsworth and Greg Tordoff from Round Valley. Several students also joined the preliminary competition as alternates to get practice for next year: Sierra Maxey and Noah Reade  from Round Valley; and Vanessa Davis and Braeden McGrale from Bishop Schools.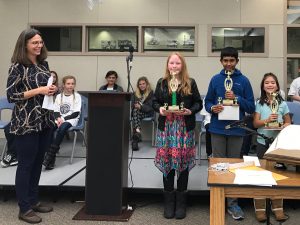 Thank you to coaches Ali Amberg, Gemma Arana, Meghan Fuchs, Victoria Hamilton, Carmen London, and Rory Winzenread for working with their students to prepare them for the bee.  
The local Altrusa chapter sponsored the competition.  They brought cash prizes and trophies for the 1st, 2nd and 3rd place winners, along with $10 gift cards to Range and River Books for all participants. Margee Neer, Sarah Sheehan and Vi Tripp were on hand to distribute the awards to students and also judge the competition.
Lynn Almeida along with Adrian Muñoz from Spellbinder Books graciously accepted the position as the Pronouncer for this year's competition. The Round Valley PTO donated $20 to the "last person standing" from each of the four districts competing.  The recipients of those awards were:
Ashley Fitt – Big Pine
Lyndsey Rowan – Bishop Unified
AJ Wilder – Owens Valley
Tylar Banta – Round Valley
Representing Inyo County at the Elementary State Bee in May will be Jodie Bedore and Rose Bracken. Mahdi Ayman and AJ Wilder  will represent Inyo county at the Junior High State Bee in May.
Congratulations to all the student participants!