ROSALIE NELLIGAN  1933-2017
Rosalie Nelligan passed away at home with her family by her side October 5, 2017 after a short battle with cancer.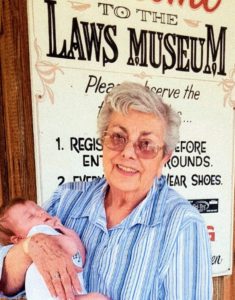 Rosalie was born August 14, 1933 in Cicero, Illinois to George and Anna Shubr. She met Marvin Nelligan while he was in the service during the Korean War. They were married January 15, 1957 in Cicero. They returned to Bishop, CA where they built their home on part of the old McLaren family ranch.
Rosalie worked for the Bishop Elementary School Cafeteria where she met and kept a lifelong group of friends. After retirement she started a long volunteer relationship with Laws Railroad Museum which lasted for 18 years. She enjoyed meeting and greeting everyone, especially the visitors from around the world.
Rosalie was very proud of her family and especially her grandchildren and what they have accomplished. She enjoyed gathering the family together around the table at dinner time and especially Holidays. She decorated her home for each season, often with things she made herself. Rosalie along with Marvin were always very giving to their family and the community.
Rosalie is survived by her husband Marvin Nelligan of Bishop, daughter Kimberlie Robison of Bishop, son James Nelligan and daughter in law Stephanie Nelligan of Bishop, grandson James H. Nelligan, and daughter in law Kelly Nelligan and great-grandsons Joseph and Henry of Reno NV, grandson Sean Nelligan of Tulsa OK, grandson Mitch Robison of Bozeman MT.
In keeping with her wishes, there will be no services. Interment will be at the Pioneer Cemetery. Donations in Rosalie's name can be made to Laws Railroad Museum or Hospice of the Owens Valley. She will be greatly missed.
A celebration of life will be held a later date.