Ron I. Barr: 1953-2019
Born February 19, 1953 to the late Ron Barr and Anita I. Barr and Grandmother
Rose Williams of Fort Bidwell.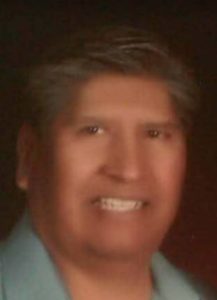 Ron passed away on May 12, 2019 in Reno, NV at the Renown Hospital at the age of 66.
He lived his entire life in Bishop as a son of the Paiute People only leaving the area to enlist into the Marine Corp in 1971 and returning in 1974.
Ron proudly served his country over and above as he returned to his community and family as a decorated Purple Heart Recipient of the Viet Nam Era.
Ron is survived by his children: Andri J. Napoles, Eric B. Barr, Ronald E. Barr, Driscoll Barr, Balery Covington and Noland Barr, as well as many nieces, nephews, grandchildren, great grandchildren and cousins across California and Nevada. Ron was a very dedicated husband and father to his children and the Love of his life Susan L. Barr who passed on March 31, 2013.
Together Susan and Ron built their family strong and loving and together they will be laid to rest, as it was Ron's wish to have Susan laid to rest along with him. Susan was survived by her father Henry and Lorene Tibbets of Cortez, CO.
Susan was born on September 1, 1953. She is preceded in death by Brother Joe Tibbets and Sister Rita Ring. Siblings are Myra (Fred) Ward and Marilyn (Joe) Uhl of Colorado and many nieces and nephews.
Ron was a great friend to many, he loved visiting with friends and visitors. He remained always calm and quite yet when he had something to say he made sure he made his point. Ron was always one of the first to volunteer for a good cause, most recently he spent his time helping out at the Paiute Cultural Center where he manned the Gift Shop, Greeted the Visitors and proudly told the stories of the Paiute
People's survival and culture.
Ron loved the outdoors, he loved fishing, hunting, camping, wood gathering and of course pine nut season.
Ron loved the Owens Valley, he loved his community and the many friends he made during his lifetime, he will be greatly missed.
Services for are scheduled for May 25, 2019 at 1:30pm at the Barlow Lane Gymnasium with burial at Sunland Cemetery.
A luncheon is planned afterwards at the Barlow Lane Gymnasium, please bring a
dish to share.
The Barr family would like to thank the Bishop Community, Bishop Paiute Tribe and VFW Post 8889 for all the help and support at this time.