Press release
The Mammoth Museum at the Hayden Cabin presents the critically acclaimed production "ROMANCING THE WEST®" this Friday, June 30th at 6:00 p.m.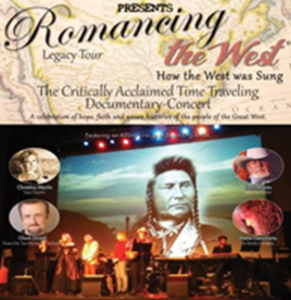 This unique time-traveling multi-media event is part historic documentary and part live concert. You'll experience 240 years of the American West in two riveting hours with episodes featuring a tribute to National Parks, "Women Who Romanced the West" and "Voices of the Past." Starring singer/songwriter Christina Lynn Martin, Cowboy Poet Butch Martin, and Martin Gerschwitz (of Iron Butterfly and The Animals), this showcase brings fresh creative voices to the Hayden Cabin.
Join us in the "Temple of Folly" tent on the museum grounds (5489 Sherwin Creek Road) and explore the trials, tribulations and triumphs that formed the diverse cultures of the American West.
Parking is limited at the museum, so guests are encouraged to use public transport and walk-in from Mammoth Creek Park. For more information visit www.mammothmuseum.org,  call 760 934-6918 or email [email protected]
Admission:  $15 (tickets available at the gate)
CONTACT INFO:
email: [email protected]