ROMA CARRIERE MCCOY passed away April 16, 2021, at the age of 100. She was born August 12, 1920, in Bishop, California, where she lived most of her life, except for a few years at Crowley Lake Dam and McGee Mountain.
Her husband, Dave of 75 years, sister, Francis and brother, Marshall all preceded Roma in death.
Roma loved dogs, horses, and horseback riding, biking and dancing. As a young girl she demonstrated her talent by twirling atop the concrete pillars on Elm Street; and, as a teen enjoyed a 'full dance card' at the weekly dances held at Keough and The Masonic Hall. Roma learned to play the piano from her father, who came to Bishop as a music teacher and piano tuner.
Roma first spotted the love of her life, Dave McCoy, at a soda fountain in Independence, California, in the fall of 1939 when she was 18 and Dave 23. Their first dates were in the High Sierras hiking to alpine lakes, fishing and skiing (once Dave taught Roma how). In exchange, Roma taught Dave to dance. The two also loved touring Highway 395 on Dave's Harley Davidson, exploring the high desert country from Tahoe to Bakersfield.
They wed on May 10, 1941. Their honeymoon, at a remote cabin up Rock Creek, required skiing the 9 miles in, Roma with strawberries in her backpack for shortcake on the woodstove.
The old adage 'Behind every successful man is a great woman' fit Roma perfectly. While raising a growing family, she supported Dave's dream of building Mammoth Ski Area, accepting the sacrifices required from Dave's long days in the field, first as a Hydrographer for the Los Angeles Department of Water and Power and then, building, operating (and endlessly fixing) ski tows up and down Long Valley and eventually Mammoth.
When the couple had to begin charging skiers to ride their rope tows (to pay for gas) in the early 1940's, Roma collected the coins in a cigar box or a fishing creel. She greeted every skier with a smile and joined him or her for a few runs at the end of the day. For years, the McCoy 'bank' was the top drawer of Roma's dresser at the Crowley House. Every dollar went back into the growing business, after Roma made sure bills were paid, school clothes mended and Christmas presents purchased.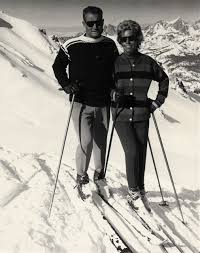 A lifelong accomplished and graceful skier, Roma earned numerous ski-racing trophies, often outpacing her rivals as a new mother with a growing brood. But she always insisted that her greatest accomplishments were her six children.
Roma did it all! She learned to cook almost everything Dave caught or shot to keep the freezer full. And, there was always enough of her inspired cooking for friends, helpers and young ski racers who might stop by, or overnight on the living room floor, eager to help the couple get the ski area up and running the next day. She loved to knit for her family and there are many photos of she and Dave in matching 'Roma Original' ski sweaters.
Throughout her long life, Roma retained a love of hiking, fishing, camping, riding bikes and skiing. An interest in tennis led to a court on their Rocking K Ranch, where some of her grandchildren followed in her footsteps by learning to play.
Roma is survived by her six children: Gary (wife, Barbi), Dennis "Poncho' (wife, Beverly), Carl, Penny, Kandi (husband Rusty) and Randy, 19 grandchildren, 34 great-grandchildren and 1 great-great grandchild.
No Celebration is planned at this time. Memorial donations may be sent to: Mammoth Lakes Foundation, P.O. Box 1815, Mammoth Lakes, California 93546