Press release
The Project Room at Independent Project Press is pleased to present The Sacredness of Open Spaces, a selection of contemporary mixed media paintings by Bishop-based artist Rodney Thompson.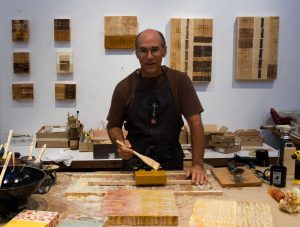 Rodney Thompson is a self-taught, award-winning artist who has been working with mixed media materials for the past 35 years. He has evolved his own personal style of expression that reflects his spiritual approach to living.   "My art is an expression of my life, which is a practice of meditation, serenity and compassion. Living each day in the present moment, mindfully aware and appreciative of the wonders of life and how everything is interconnected and interdependent, yet at the same time impermanent, brings me happiness and joy. Creativity is more than making art, it is the essence of how I live."
This is the first opportunity for locals to enjoy these modern and contemplative works.  Earlier this year, Rodney and his wife Kathy moved to Bishop from Redding, California, in order to live close to the High Sierras and the desert regions of the southwest. He finds solace and a spiritual connection with the earth and the spacious outdoors that the Eastern Sierra offers. He and his wife love hiking in the Sierras as well as exploring the vast open landscapes of the deserts nearby.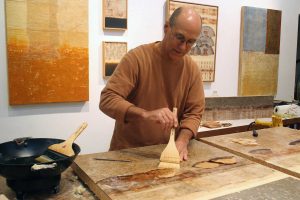 Many of the works in this exhibition are from his rich and varied ongoing series of works titled Earth: Connections and Contemplations.  In Rodney's words this work is about "my love of spacious outdoor places and my spiritual connection with the earth. By collecting earth pigments from locations I visit, I incorporate both the actual earth samples and the evidence of my direct contact with the earth and these places. Teabag and coffee filter papers in my art continue to represent the quiet meditative moments associated with the act of sitting quietly in contemplation and also act as markers for the countless incremental moments of time that make up geological history."
Rodney Thompson has been working with encaustic wax mediums as one of his primary creative processes for over 15 years. His explorations have led to a passion for the encaustic medium and for finding meaningful ways to incorporate drawing and non-traditional materials in layers of encaustic wax.
Encaustic itself is a very unique painting medium, composed of beeswax, tree resin, and pigment which is applied in a melted liquid state to a support structure and then finally fused together with even more heat. Encaustic art works are often recognized by their lustrous, translucent, enamel-like surface.
Rodney enjoys layering special elements into his encaustic work.  In his words. "I like to take common objects of everyday life, things overlooked, disregarded and unappreciated, and present them out of context, such that the viewer sees them first for their beauty and later for what they are. In this way I hope to suggest how there is much to be seen and appreciated in our world that is often missed, beauty that is all around us, available to the observant eye.
Encaustic allows me to include these objects and materials in my artwork in ways that add layers of meaning to the art, referencing both the simple joy of activities of daily living as well as more specific concepts that I associate with these artifacts of life."
Rodney has shown in galleries throughout the country and has taught workshops and contributed writing and artwork to several books on encaustic art. He has been honored to be Artist in Residence at two of our National Parks.
Rodney Thompson's "The Sacredness of Open Spaces" will be on view from Saturday, October 15th  through
Saturday, January 14th, 2017
.
Please join us during our opening reception for the artist from
5 PM – 8 PM
on
Saturday, October 22nd
, during the Downtown BIshop Chocolate Art Walk.
The Project Room at Independent Project Press is located at 186-A Willow Street, just one block east of Main Street, in downtown Bishop. Curated by Bruce & Karen Licher, The Project Room hosts periodic exhibitions of artwork, photography, and installations reflecting the diverse creative talents to be found in the Eastern Sierras.