Mammoth builder John Hooper acquired the former Paradise Lodge and Resort some time ago, this week he will take his project for that area, Rock Creek Canyon, to the Mono Planning Commission.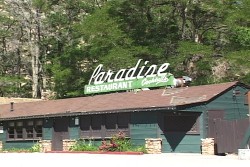 Hooper and others have already worked through an Environmental Impact Report and Specific Plan details. The Planning Commission agenda for Thursday's meeting says that the project proposes 15 parcels: 12 market-rate single-family residential lots, one parcel for workforce housing and two parcels devoted to complementary uses including a trailhead parking lot and permanent open space.
At issue on this project, potential impacts on the migrating deer herd in the area and visual impacts, according to planners. Hooper said that he will plan to maintain permanent access to the mountain bike and hiking trail through his property. He explained that he will create a parking lot for the trail head and designation for the possibility of future restrooms.
Hooper added that he will encourage alternative energy in the development with requirements for energy efficient building, natural materials and no glaring lights. Hooper said that he will also decrease the allowed density on the property from 33 to 12.
As for the old fish cabins at Paradise, Hooper said that he couldn't move them to another location in Mono County without bringing them up to code, so he found other homes for the historic cabins. Parchers' Resort will take some and another location in Dyer, Nevada. Looking back to the days of Paradise Resort, Hooper noted that there will be no more loud music or glaring lights.
The Mono County Planning Commission will meet Thursday at the Crowley Lake Community Center starting at 1:30pm. A field trip to Mr. Hooper's project site happens at 3pm with a public hearing on the project at 6:30pm.