Robert Van Thom 86; resident of Bishop for 31 years, born in Florida on December 7, 1928, passed away peacefully on April 14, 2015 at his residence with his grandson Robert by his side.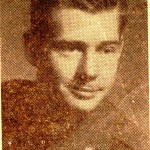 Robert moved to California in 1942. He graduated from Narbonne High School the summer of 1946, from there went on to Compton J.C. (Junior College)
Robert served in the U.S. Army Corps. of Engineers from Sept. 1950 until discharged April 1952 as a combat medic. He earned the rank of Staff Sgt. and was shipped to Korea.  He distinguished himself by Gallantry in action near Chung-Bang-P'yong, Korea on the 18th of February 1952 and was awarded the Silver Star.
After his discharge from the service he was employed by Long Beach Oil Development Company. There he stayed for 34 years and retired as Chief Accountant in Material Control.  Shortly after retirement, Robert and his loving wife Thora, a marriage of 42 years moved to Bishop in 1986. Thora passed away Feb. 24, 1988.
Robert is survived by Grandson Robert Thom and wife Holly from Templeton, CA, Grandson William Newton Thom of Templeton CA, Sister Adoree Suran and Husband Richard from La Palma, CA.
From Robert: Iwould like to say to all my friends whom I know by name:
God Bless and Good Bye.