ROBERT LEWIS UNKRICH
1924 – 2017
Robert ("Bob") Unkrich, 93, of Bishop, California, passed away peacefully on Sunday, December 10, 2017, at the Bishop Care Center. Born in Pasadena, California, to Lewis and Gladys Unkrich, he lived his life both in Ohio and California, enjoying his last 28 years in Bishop.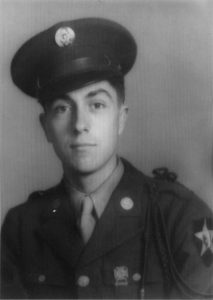 Bob served as PFC in the U.S. Army from September 25, 1942, with an "Honorable Discharge" on December 3, 1945. He was a WWII Veteran and served in "The Battle of Normandy" (D-Day). Bob's decorations and citations include: "American Theatre Service," "European-African Middle Eastern Service," "Good Conduct," and "Victory" medals. His family thanks him for his unselfish service in helping to protect them and the citizens of the United States of America.
Bob was a gifted artist and was a member of the Bishop Mural Society, where he designed and painted numerous local murals. His many works can be enjoyed in several locations around town and in private homes and businesses.
Bob was a compassionate man with a big heart, and contributed much to the Bishop Senior Center and its recipients. He loved his family and was very proud of his son, Lee Unkrich of Kentfield, California, and daughter, Teri Roberts-Allsup of Bishop. Bob is also survived by his granddaughters, Rachel Roberts-Heredia, Hannah Unkrich, and Alice Unkrich; grandson, Max Unkrich; and great-grandsons, Dylan and Andrew Heredia, as well as his niece, nephews, and many loving and caring friends. He will be greatly missed!
Per Bob's wishes, there will be a private family memorial.