Robert W. Ford August 24, 1930 – December 18, 2016 Rancho Bernardo, CA
Robert W. Ford went home to the Lord on December 18, 2016 at the age of 86. Cause of death was vascular parkinson's.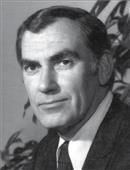 He was born August 24, 1930 in Long Beach, CA, and grew up there, and was a Korean War veteran having served in the U.S. Navy from 1950 to 1952.
He graduated magna cum laude from USC with a degree in Accounting.
In January 1955, he joined Price Waterhouse & Co., CPA's in Los Angeles. He was admitted as a Partner in the firm in 1965 and resigned as Regional Tax Partner in 1976.
He then relocated to Bishop, CA, where he worked as Partner in the firm of Ford & Cocherell, CPA's, until his retirement in 1992.
While in Bishop, he served as President of the Lion's Club and member of the Advisory Committee to the Inyo County Water Commission.
His professional activities included service as Director and President of the California Society of CPA's and recipient of its Distinguished Service Award.
He was a former member of the Qualifications Committee of the California Board of Accountancy, governing council of the American Institute of CPA's and of its Joint Trial Board.
He also served as Trustee and Vice-president of the California CPA Foundation for Education and Research.
In civic matters, he was Chairman of Budget and Finance for Arrowhead Villas Mutual Service Company, President and Treasurer of Oaks North Community Center and President of the Rancho Bernardo Social Club.
He is survived by his wife Patricia, three daughters, Lora Wood, Jennifer Hoffman, and Betsy Backal, four stepsons, Michael, Dennis, Brian, and Neil Billings, ten grandchildren, and one great-grandchild.
A memorial service will be held on January 14, 2017, 11:00 am at the Rancho Bernardo Inn, 17550 Bernardo Oaks Dr., Rancho Bernardo, CA with a reception to follow.