Robert "Robbie" Andreas passed away, July 30, 2015 at the age of 90 in Bishop, CA. Robbie was one of eight children born to William Andreas and Ester Collins Andreas on August 29, 1924 in Bishop. Until recently, he was the oldest living male of the Bishop Paiute Tribe.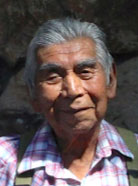 In his youth, Robbie attended a church school in Bishop and the Stewart Indian School in Stewart, NV. He received his high school diploma from Sherman Indian High School, in Riverside, CA.
Robbie met his wife, Angela Martinez (Spoonhunter, Andreas), while attending Sherman Indian High School. The first time he saw her was while she performed as a drummer in the school band. They had many childhood memories throughout their high school years. A fond memory they shared was their roller-skating stories. The two would later reconnect and begin a life together raising seven children.
Robbie and Angela spent over 50 years together as a family and on September 8, 1979 in Hawthorne, NV, they would finally marry. He was a loving and loyal husband who was dedicated to his family. When his wife Angela became sick Robbie stayed by her side until her passing in 2002.
He was a very hard-working man, his working years were among the Southern Pacific Railroad, Bishop Sawmill, and Union Carbide Corporation. While at Union Carbide Corporation, he was proud to say he missed only one day of work throughout his 25 year career. He received special recognition from Union Carbide Corporation for his years of dedication. After he retired, he became the Water Master for the Bishop Paiute Indian Reservation which he thoroughly enjoyed.
Robbie loved the outdoors, spent much time hunting and became an expert in fishing and gardening. He loved picking pine nuts and wild onions. He would roam the valley and mountains to pick pine nuts and fish until he was 84 years old, to finally be slowed down by a falling accident. He was famous for his vegetable gardens and had one every year until he was 89 years old.
Robbie was a well loved and respected man. His biggest accomplishment in life was caring for and raising his seven children. Although Robbie and Angela did not have children together, he loved the children as if they were his own. He will be greatly missed by all.
He is preceded in death by his parents; wife, Angela Andreas; brothers, Dan Andreas, Clarence Andreas, Richard Andreas; sisters, Virginia Davis and Mary Manriquez; daughter, Linda Stone Benitez; sons, Alan Spoonhunter, Thomas Spoonhunter and Garrett Spoonhunter; grandson, Clinton Robison. He is survived by brothers, Harry Andreas and John Andreas; sons, Ron and Lyle Spoonhunter; daughter, Dorothy Robison (Spoonhunter); 26 grandchildren; 46 great-grandchildren; three great-great-grandchildren and his loyal dog, Rover.
A traditional Cry Dance will be held at dusk on Thursday, August 6, 2015 at the Jonathan Stone residence, 661 N. Pa Ha Lane in Bishop, CA.
Funeral Services will be held at the Brune Mortuary on Friday, August 7, 2015 at 10:00 a.m., immediately following is graveside service at the East Line Street Cemetery, and to conclude services a luncheon will be held at the Barlow Lane Gymnasium, 390 N. Barlow Lane, Bishop, CA.