Press release
BISHOP- U.S. 395/Main Street will be closed from 4:00 p.m. to 6:00 p.m. on Saturday, December 1, 2018, from Mandich Street at the south to Sierra Street at the north for Bishop's Annual Christmas Parade and Santa Fun Run.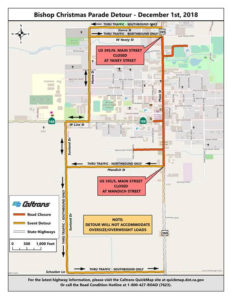 Following the parade and fun run, heavy pedestrian traffic will continue on U.S. Hwy 395/Main Street due to the "Street of Lights Party", with many local stores staying open until 9:00 p.m.
Detours are available for general traffic, however, they will not accommodate oversize/overweight loads. Refer to the second page of this advisory for the detour map. Motorists should plan for delays during this event.
For the latest highway information please visit the Caltrans QuickMap site at quickmap.dot.ca.gov or call the Road Condition Hotline at 1-800-427-ROAD (7623).