As part of a legal settlement, the Los Angeles Department of Water and Power agreed to put some water back in the dried up Lower Owens River.  Now, officials want to hear from the public on what kinds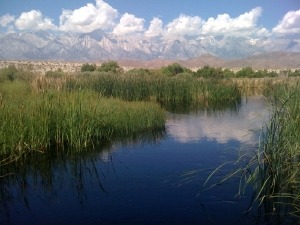 of recreation they would like to see developed along the river.  A problem on the river – masses of tules.
Inyo County managed to get funds to hire a consultant to come up with a draft recreation use plan.  Right now, they need lots of public input.  The consultant wants the public to share experiences on the river and aspects they like or don't like.
What most people don't like are all the tules or cat tails that choke off many sections of the river and make boating a real challenge.  People, particularly in Southern Inyo who have tried to recreate on the river say they have given up in the face of all those tules.
So far, there is no answer to that problem.  So, officials, hopeful that things will turn out well, move ahead with their recreation plan.
Check out the river survey at www.lowerowensriver.org.  You can also contact the Water Department directly at 878-0011.