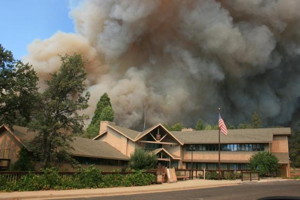 UPDATE 8-28:  
ALPINE COUNTY AND NORTHERN MONO COUNTY
HEALTH ADVISORY – Smoke Impacts
 ·         Smoke source RIM FIRE: http://www.inciweb.org/incident/3660/
·         GBUAPCD AirBlog updates: http://airblog.gbuapcd.org/
The Great Basin Unified Air Pollution Control District is re-issuing an Air Quality Health Advisory to notify the public of unhealthful air quality in Alpine County and northern Mono County due to smoke from the Rim Fire.
Air Quality Monitors recently installed at Bear Valley and Markleeville confirm a VERY UNHEALTHY AIR QUALITY INDEX (AQI) in Bear Valley and UNHEALTHY AQI in Markleeville. Current particular matter (PM) levels are at or exceeding the state standards for PM10.  These conditions are expected to continue until the fires are extinguished.
 *************************************************************************************
Portion of Tioga Road in Yosemite National Park to be Temporarily Closed
Closure Needed to Support Firefighting Efforts in Park (National Park Service news release)
A portion of the Tioga Road, from Crane Flat to White Wolf, will be temporarily closed to all vehicular traffic beginning tomorrow, Wednesday, August 28, 2013, at 12:00 noon.  The closure is necessary for firefighters to perform fire suppression activities along the road.  This portion of the road is anticipated to be closed at least through Labor Day Weekend.  The park will issue an update as conditions allow for the reopening of the road.
"The work that will be performed over the next few days is instrumental in suppressing the Rim Fire within Yosemite.  The safety of the firefighters working along the road is our paramount concern," stated park Superintendent Don Neubacher.
Tamarack Flat and Yosemite Creek Campgrounds, both located along the Tioga Road within the closure, will remain closed during the fire suppression efforts.  White Wolf Campground and White Wolf Lodge will remain closed.  The Tioga Road will remain open east of White Wolf to the Tioga Pass Entrance.  The Porcupine Flat Campground, the Tuolumne Meadows Campground, and all visitor services within Tuolumne Meadows will remain open.
Highway 41, from the southern portion of the park, and Highway 140, from the western portion of the park, will remain open.  Both of these roads provide access to Yosemite Valley.
A fund to help the park restore trails, facilities, and wildlife habitat has been established by the Yosemite Conservancy.  People wishing to contribute to the fund can donate online atyosemiteconservancy.org/fire.  People can also donate via mail by sending donations to Yosemite Conservancy 101 Montgomery, Suite 1700 San Francisco, CA 95104.
For up-to-date Yosemite information regarding the Rim Fire, please visit the park's website at: http://www.nps.gov/yose/planyourvisit/rimfire.htm.
RIM FIRE INFORMATION
Update #16
Release for Tuesday, August 27, 2013/Time: 8:00 AM from Inyo National Forest
Incident Statics
Acres Burned:             179,481                                                                         Structures Threatened:            4,500
Containment:              20%                                                                               Structures Destroyed:             101
Fire Start Date:           August 17, 2013                                                          Injuries:                                    2
Fire Cause:                  Under Investigation                                                      Total Personnel:                       3,752
Cost to date:               $27.2 Million
Fire Update
Firefighters worked overnight on yesterday's spot fires and continued with line construction throughout the fire.  Crews were successful in getting a dozer line around  spot fires at Duckwall Mountain. Firefighters were able to get line in, and successfully burn out the adjacent to Yosemite National Park south of Highway 120 to slow the spread of the fire.  Today, fire crews will continue working the spot fires and structure defense north and south of Highway 120 from pilot Ridge to Yosemite National Park.  Fire fighters will also continue with contingency line construction in advance of the communities in the Highway 108 corridor.
Forest Closure
The Stanislaus National Forest has issued an area closure for the entire Groveland Ranger District and for the Mi-Wok Ranger District east of Highway 108.  Additional details are available from the Groveland Ranger District, 209-962-7825
Road Closures
Highway 120 remains closed to all inbound and outbound Yosemite National Park traffic to Crane Flat Campground.  Highway 120 east/Tioga Road remains open.  Also closed are Graham Ranch Road, Smith Station at Highway 120, Cherry Lake at Highway 120, and Evergreen Road.  Highway 120 from Ferretti Road to Buck Meadows remains open only for local residents and business only.
Evacuations
The evacuation advisory from Tuolumne City and the area east of Highway 108 has been expanded to Pinecrest Lake.  Highway 120 at the Yosemite National Park boundary west to Buck Meadows has been evacuated.
A Mandatory Evacuation has been issued for residences north of Old Yosemite Road (Forest Road 2S01), and an Evacuation Warning has been issued for all residences north of Bull Creek Road (Forest Road 2S02), Bondurant Mine Road, Texas Hill Road, and Wampum Hill.
An evacuation center is located at the Mother Lode Fairgrounds in Sonora.