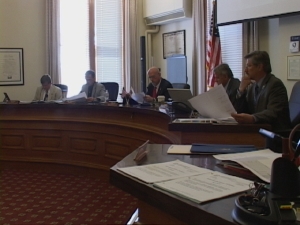 Businesses in Mono County, especially Lee Vining, have suffered this season due to the disastrous Rim Fire that closed Highway 120 for a time and now the government shutdown which closed Yosemite. Owners of one motel in Lee Vining are asking the Mono Supervisors for more time to pay Transient Occupancy Tax.
Tim and Kimberly Traynor, owners of Yosemite Gateway Motel, wrote a letter to the Supervisors to ask for help for all Mono County lodging businesses. The letter says more time to pay taxes would help businesses "recover from the devastating effect of the recent Rim Fire which ultimately led to the closing of a portion of the Tioga Road in Yosemite for over two weeks in the busiest part of our tourist season."
The Traynors point out that the normal season is short and there is not a lot of recovery room to fall back on in a summer like this one. The Traynors say the losses have been devastating, and they are trying to find ways to come out of it "without losing everything." The Traynors say they have been tax-paying business owners for nearly 25 years and find their letter not an easy one to write.
They ask specifically for short term relief for motel owners in Lee Vining. Their letter points out that the third quarter TOT comes due as their season is ending and it is the biggest TOT payment of the year – for them as high as $35,000. They ask that motels be allowed to pay third and fourth quarter TOT over a period of time in payments – interest only and no penalties.
Business realities are that there is virtually no income for the motels during winter months. The Traynors said the Mono Tax Collector said she could not help, so they wrote to the Board of Supervisors where this issue was scheduled for consideration today.