Laws Railroad Museum and Historic Site will fire up the Death Valley Railroad motor car for rides this Sunday and Monday from 10:30 a.m. to 2:30 p.m.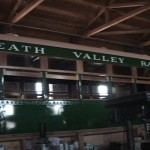 The car will be leaving the depot approximately every hour. Fares are still only $3, children under 13 free if accompanied by an adult.
Bring a picnic lunch and enjoy a relaxing day at the Laws Museum.
The complete summer ride schedule is posted at lawsmuseum.org; phone 760-873-5950 for more information.
###
Celebrate the holiday weekend at the Mammoth Lakes Friends of the Library Used Book Sale.
The sale will be at the Mammoth Lakes Library at the corner of Meridian and Sierra Park Road. It begins Friday, May 24, at 11 AM and runs until 5 PM, and continues through Saturday, May 25, from 10 AM to 5 PM.
There will be a huge selection of hardbacks, paperbacks, and vintage books. Those in the know come early for the best selection! And to end the sale, the ever popular Bag Sale will run from 4 to 5 PM on Saturday.
Come and browse and buy, Buy, BUY! You can also buy your tickets for the big summer raffle. Prizes include an internet tablet, fly fishing trips, and a 47" LCD HDTV. All proceeds support the Mammoth Lakes Library and its programs.
###
Inyo Council for the Arts presents…Memorial Day Weekend Arts & Crafts Show at Bishop City Park.
The show features over 150 booths with high quality handcrafted items including pottery, jewelry, woodcrafts, photography, clothing, quilts, paintings and much, much more.
Open this Friday and Saturday, free admission, free parking and great food too.
Sunday don't miss the Lions Club pancake breakfast from 7:30 to 10am and live entertainment from 11:00 to 6pm.
You gotta see this fantastic show of incredible arts and crafts, many returning vendors and new ones too, Memorial Day Weekend in Bishop City Park.
###
The Bishop City Park Pool will be open for Public Swim May 24 thru the 27 from 1:00 p.m. to 5:00 p.m. each day. Cost will be $3 for children under 18 years and $5 for adults.
Lap Swim will not be available during this time. This schedule is subject to change due to unseasonable weather. The regular pool season will begin Saturday June 8.