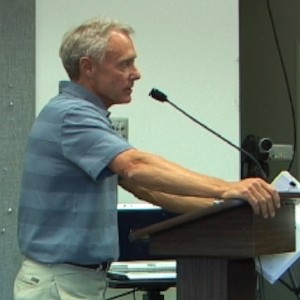 With the Mammoth Town Council election heating up, some candidates have started to focus on the Old Mammoth Place project to make political points.
At this point, the Old Mammoth Place project only exists on paper, but council candidates Tony Barrett and Kirk Stapp have squared off over the issue with Barrett supporting the project and Stapp leading the opposition. Now, council candidate Rick Wood has weighed in with more of his views on Old Mammoth Place.
In an open letter to the Town Council, Wood reiterates his support for the appeal of the Planning Commissions approval of the project. This appeal sends the project to the Town Council to decide whether or not Old Mammoth Place should be allowed to move forward in its current form.
Wood writes, Those of us who have spoken in support of the appeal have been alternately praised and vilified for our public position. Reasonable people can disagree. Politics and policy always go together. I support the appeal because I believe that a project of this magnitude must bear the stamp of approval of elected officials who are accountable to the electorate, but only after they conclude that it is best for the community.
Rick Wood asks the council members to ask themselves, Is this the best we can do? If the project can be improved, Wood urges the council to be patient and send the project back to the Planning Commission with specific direction from one voice to make this project better.
The appeal comes up at the Mammoth Town Council meeting on April 21.