At the June 24th Town Council meeting, Rick Wood, current member of the citizens' budget committee, tried to express views on the troubling state of finances in the Town of Mammoth Lakes. Mayor Wendy Sugimura refused to let Wood return to the podium to challenge her statements.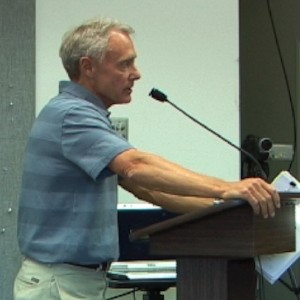 Was Sugimura's behavior an abuse of power? Some in the audience said they thought so. Others said she was just trying to run a meeting. Former Town Councilman Rick Wood did not have a chance to respond to the Mayor after she shut him down at the meeting. So, he wrote a letter to the editor, which follows:
ac-count-a-bil-i-ty: the state of being accountable, liable, or answerable. (Dictionary.com)
In order to make the right decisions about the future, one must own the past. Our (former) mayor, Wendy Sugimura, denied that we were in recession 16 months ago, and proclaimed that those who thought so (yours truly) were "talking us into one."
One year ago, the former mayor scoffed at my request for budget oversight and independent review based on verifiable data.
At this week's budget workshop, the former mayor gushed over the "robust data set" developed by the independent consultant finally hired to provide budget review, which confirmed what we already know: the Town's revenue projections are too optimistic.
Next, the former mayor, who has presided over nearly $9 million of deficit spending during her two years as mayor and mayor pro tem, blamed "the worst recession since the Great Depression" as the cause of the Town's budget ills. Worse yet, she blamed past Town Councils, particularly those on which former members Kirk Stapp and myself have served, for the Town's current financial condition. She asserted that this Council "inherited" from Kirk Stapp and Rick Wood the (poor) management structure of the Town. Wendy, you inherited nothing from me except eight years of budget surpluses.
Icing on the cake is the former mayor's confident assertion that continued deficit spending (the Council approved an interim budget with contains a shortfall of $1.874 million for 09-10) is appropriate during these hard times.
My question to the former mayor: when will you own the past and be accountable for your past mistakes in order to make fiscally responsible decisions for the future?
Rick Wood.