Born December 1, 1932 in Portland, Oregon Richard (Rick) Milton Jali was an only child. He passed away peacefully in his sleep at the age of 84 on October 7, 2017 at Solheim Lutheran Home in Los Angeles after suffering from Alzheimer's for 7-1/2 years.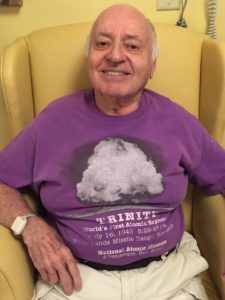 Over the years Rick lived in Portland, Oregon, southern California, Malaysia, Iran, Seattle, Washington, Mammoth Lakes, Bishop (three years at Sterling Heights Assisted Living) and Los Angeles (three years at Solheim Lutheran Home).
An outstanding student, he was brilliant with an IQ of about 130.
Rick decided to take on an intellectual challenge and attended Caltech where he earned two degrees, a bachelors and masters in physics. He became an engineer working in the aerospace industry including time with Hughes Aircraft and Boeing.
In the early 1970's, when the aerospace industry took a down turn, Rick enrolled in the Peace Corps and taught high school physics in Malaysia, a decision he often said was the best one in his life.
Rick was working for Hughes Aircraft in its missile division in Iran for nearly two years when he decided that the situation in the country was very unstable and about to get worse.
He was offered a new two-year contract, which he declined and left the country, less than six months prior to the 1979 Revolution.
Rick was recognized, but often not known by name, to many in town. You may have seen him skiing Mammoth Mountain in his old faded jackets and colorful jester helmet cover or riding his bike around town wearing his bright yellow helmet.
Many of his acquaintances and friends found him quirky, but lovable. He was a hiker and a peak bagger and member of the Sierra Club, Sierra Peaks Section (SPS), of which Rick was chairman in 1967.
He recorded 142 climbs of the 247 named peaks on the SPS list. He was one of three men that initiated a petition that resulted in the naming of a previously unnamed, but prominent peak, now known as "Caltech" peak. Rick had made the third recorded ascent of the peak.
He enjoyed backpacking, camping, kayaking, reading, model airplane building and skiing.
It was clear to all who knew him that his biggest passion was to travel. Rick most frequently traveled to locations and in a manner that were far from average. He never took a traditional "cruise" as his cruises for him involved staying in the crew quarters of a deadheading freighter. Often Rick would avoid traditional tour groups and through extensive research would design his own tour, which were always far from the "beaten path."
He would return from these trips and present incredibly interesting slide shows at the Mammoth Lakes Library as part of his collection of over 47,000 slides. In his travels he made sampling beer a high priority, something he did in more than 100 countries. If beer was included in an event in Mammoth Lakes, Rick would usually be there front and center.
As an only child who never had children of his own, his interest in young people was keen. He was an Assistant Scoutmaster with Troop 370 in Mammoth Lakes from 1989- 2001.
He was our dear friend for nearly 30 years and we will miss him so very much.
Rick is survived by his cousin and only living relative, Norman Battaglia and his wife Rachelle of Portland, Oregon, parishioner friends from St. Joseph's Catholic Church in Mammoth Lakes and his dear friends and caregivers for the past nine years, Fred and Barbara Richter of Mammoth Lakes, CA.
It was his wish to be cremated and his ashes to be spread over the Sierra Nevada near Mammoth Lakes.
A Celebration of Life will take place at a future date to be determined and will be announced.
Donations may be made to the Alzheimer's Association at www.alz.org .