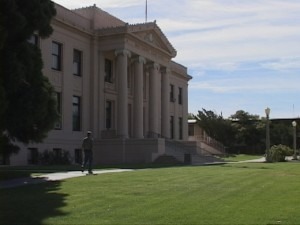 The case of former Assistant District Attorney Will Richmond did go to court in Inyo County at the end of last week.  Judge Argento has taken the issue under submission.
Richmond has sued Inyo County, DA Maillet and the Inyo Supervisors for wrongful termination.  He has asked for re-instatement to his job and back pay plus interest.
Inyo County Counsel Randy Keller said that Inyo filed a motion to object to the legal sufficiency of Richmond's claim.  Keller confirmed that Inyo County believes Richmond was a probationary employee at the time he was fired.  Richmond says he was a permanent employee.
Keller said District Attorney Art Maillet extended Richmond's six month probationary period by another six months, which he can do.  Maillet fired Richmond during the extended period with no cause.
Richmond's brief said that Maillet told him he needed to extend the probation because he had been too busy with a murder trial to evaluate Richmond's performance. The brief says Maillet assured Richmond that he should not be concerned about any problems with his performance.
Richmond's claim says Maillet never gave him a required job performance evaluation.  His brief says Maillet said he put the evaluation on Richmond's chair but now the document is "lost."
Judge Argento did say he would accept further pleadings in the next 30 days and make his decision sometime after that.