Richard Henry Knecht
July 24th 1931 – June 1st 2017
Richard Henry Knecht , 85 passed away on June 1, 2017 at his residence in Bishop, CA.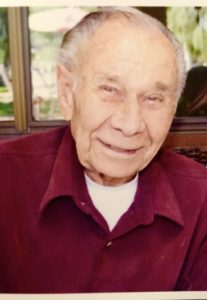 Richard was a native resident of Bishop and Graduate Bishop Union High School 1949, He played many sports including football and basketball which he was the captain of in 1949; he was also, president of his senior class.
After High School he went on to the University of Reno and studied engineering for 2 years, he then Joined the U.S. Navy in 1951 and served 8 years when he was Honorable discharged in 1959 while he was in the Navy he was a part of the Korean War low altitude bomber with the Attack Squadron. He was awarded 2 Korean War service ribbon stars, National Defense Service and a China Service Medal (Extension).
When Richard was discharged from the Navy he returned to his home in the beloved Eastern Sierra, where he married his beautiful wife of 62 years Shirley Knecht raised 3 sons.
Some of Richard favorite hobbies included Hunting and fishing, camping, house boating and working with leather, he was also an avid snow and water skier.
Richard is survived by wife Shirley Knecht, sons: Richard Knecht and wife Ali of Spokane, WA., Steve Knecht of Fallbrook, CA. and Rollin Knecht and wife Shelly of Cumming, GA. along with 6 grandchildren Kelsey Evans, Alicia Knecht, Brayton Knecht, David Knecht, Courtney Knecht, and Kirstie Tidwell. Also,1 great grandchild Maddex Arana and nephew John Knecht.
He was preceded in death by his mother Edith K. Decker; father Fredrick Knecht, Step-father James Birchim, father Fredrick Knecht, step-brother Jim Birchim and step-sister Mary Birchim.
Services will be held 10:00 am, Tuesday June 6,  2017 at Brune Mortuary, followed by a graveside service at East Line Street Cemetery.