Richard "Dick" Robinson 1943-2017
Richard "Dick" Robinson, the Man, the Myth, the Legend, was born October 4th,1943 passed away in his sleep on December 18th at the age of 74.  Richard leaves behind two brothers, Mike and Tom, and three children: Rick, Jolie, and Jay. His four grandchildren– Dylan, Nicole, Jessica, and Jack– were his greatest source of pride; all of whom he truly loved.  He also leaves behind hundreds of good friends.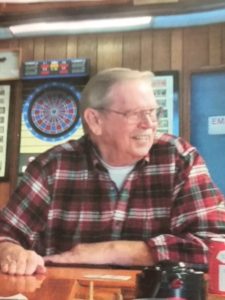 Richard was a fine Newspaper Man for over 20 years, covering sports for daily publications in Anaheim and most notably for the Star News in Pasadena California, where he covered the LA Dodgers as a beat-writer from 1965 to 1981. Richard also worked as a bartender for several establishments in Pasadena before he moved to Bishop CA. where he semi-retired. Dick continued tending bar there, literally working at every drinking establishment the city has to offer: McMurry's, the 19th Hole, La Casitas, and Bishops chapter of Veterans of Foreign Wars (the VFW). His cunning wit, biting sarcasm, and encyclopedia-like knowledge of sports trivia made him a favorite of locals and visitors alike. He was a masterful story-teller and enjoyed being able to spin his tales from both sides of the bar. While in Bishop, Richard was able to accomplish his goal of becoming a "truly mediocre" golfer, while routinely besting his sons and grandson at the game. He truly lived a full and exciting life and will be terribly missed.
A "Celebration of Life" memorial was held January 20th at the Bishop VFW 8988 at 484 Short St. Bishop, CA 93514.