Richard (Dick) Martinez
1928-2016
Richard passed away on December 12th, 2016 at the Bishop Care Center. He passed in his sleep, closing his eyes on this side of glory and opening them in heaven. He was 87 years old.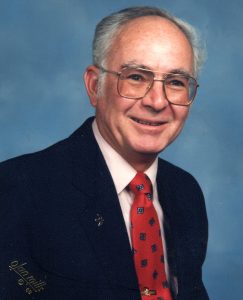 Richard was born in Boyle Heights, CA on December 23rd, 1928, to Manuel and Alice Martinez. He grew up in L.A. Around his teenage years he started delivering newspapers.
He was a hard worker both around the house and after school, raising chickens, a goat, pigeons and rabbits.
The month he graduated from Fremont High School, he went to work for Don D. Cadillac as a car jockey.
In 1950, he attended L.A. City Collage, putting himself through business school. In 1951, he enlisted in the U.S. Air Force and served 4 years.
When the war ended, he settled in L.A. with his wife and one daughter. A year later he went to work for General Motors Cadillac Division as an executive salesman in the North Hollywood branch.
He would tell many a story of movie stars who would come to purchase Cadillacs. He relocated to Garden Grove and the family grew with subsequent births of another daughter, and 3 sons.
While living in Southern California, when his children grew older, the family enjoyed attending football and baseball games and numerous outings at vacation time.
In the summer months the family would come to Bishop for camping trips and business with the Cadillac dealership in town. Richard and his wife Ruth, relocated the family to Bishop in the summer of 1970.
Dick owned and operated Bishop Gulf and Oil for a few years, then worked for Joe Green Motors and finally retired from Inyo County.
Richard and Ruth separated in 1978. Ruth relocated to Spokane WA., While Dick stayed in Bishop. He met and married Dorothy (Dottie ) Hale in 1983 and they had 19 wonderful years together. She passed away in 2002.
Dick is survived by his daughters Diane and Adrienne Martinez of Bishop, sons Gregg, Scott and Paul Martinez of Spokane, WA.
He has 6 grandchildren and 4 great grandchildren. He is also survived by his 2 brothers, Art Martinez of Yorba Linda, CA. And Edward Macrary of Rancho Mirage, CA. He is preceded in death by his sister Helen Gomez, who passed away in 2016.
Richard was a humble, god-fearing man of god. He loved the Lord and he loved people. He had a ready smile and greeting for those who came his way. He always had a word of wisdom for those needing divine guidance in their lives.
Dick was a resident of Bishop for 46 years, and was greatly and dearly loved. He lived life with a grace that gave him and those who knew a glimpse into the divine splendors of heaven. His life verse from the Bible is Rev, 2:10….. Be thou faithful unto death and I will give thee a crown of life". He is now wearing that crown.
There will be a Celebration of Life Memorial Service on January 7th, at 11:00 AM at the Neighborhood Church with Pastor Jake Evangelist officiating. It will be a time of reflection with many friends sharing their memories of Dick's life. If you would like to participate, feel free to join in.
In lieu of flowers, please consider a donation to the Gideon's, P.O. Box 155 Bishop, CA 93514