Richard Martin Kanold
January 1, 1922 – November 11, 2015
Richard (Dick) Kanold died peacefully at his home in Big Pine on November 11, 2015. He is survived by his wife Leslie, 6 children (Rick Lockhart, Norman Kanold, Stephen Kanold, Kathleen Day, Dixie Kanold, and Desiree Tackett-Nuckols), 4 grandchildren (Marisa Kanold, Nicole Guy, Brian Day, and Patrick Lockhart), and 3 great grandchildren (Zander Guy, Roman Guy, and Maddison Lockart).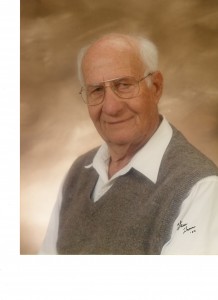 Dick was born in Los Angeles and grew up in the Highland Park area. When war came, he enlisted in the U.S. Navy and served as an aviation mechanic instructor from 1942-1945. After the war, he settled in Costa Mesa, California, where he met and married Barbara (Hartford) Kanold.
They soon moved to Oxnard, California, to raise a family and start a vending machine business that ultimately grew into a corporation known as Oxnard Automatic Sales, providing amusement and vending services to the communities of Santa Barbara, Ventura, Oxnard, and Camarillo.
He retired in 1987 after selling his business and then fulfilled his dream of moving to Big Pine. He married Leslie (Showalter) Kanold in 1992, and together they have spent the last 23 years enjoying all that the Owens Valley has to offer, from fishing and hiking together to enjoying the various dining venues of the area and participating in the Valley's many local events.
They also had the opportunity to travel abroad and locally in Southern California to visit family and friends. For several years, Dick also operated a local vending machine route in the Owens Valley. He was a proud member of the Elks Lodge throughout his life and particularly enjoyed the local chapter in Bishop.
Dick will always be remembered for his outgoing personality, sense of humor, and quick wit. Probably his greatest achievement, however, was being a wonderful father, grandfather, and great grandfather to his family. He enjoyed keeping in touch with all of his children throughout his life and always welcomed their family visits with him in Big Pine, where he would plan a host of activities to make their trip fun and entertaining.
He was beloved by all his family and will be sorely missed.
He will be laid to rest at West line Street Cemetery in Bishop on Friday, November 20, 2015. Graveside services will be preceded by a memorial service at Brune Mortuary, 325 West Elm Street, Bishop, at 11 a.m.