It is with sadness we announce the passing of beloved father, grandfather and friend Richard "Dick" Blinn Conn.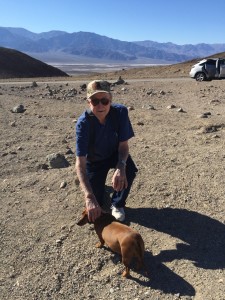 He was born in Pasadena on June 15, 1925. His parents owned June Lodge at June Lake. Before World War II he worked at the June Lodge and after the war he managed the lodge with his new bride Sue.
Dick served in the Navy in the South Pacific during the war and was on the aircraft carrier USS Princeton when it was kamikazed and sunk by the Japanese. He survived the sinking of the USS Princeton without injury and went on to serve on other ships until the end of the war.
When Dick's folks sold June Lodge in the early 1950's he and Sue moved to Southern California. Dick owned a very successful Union 76 "Full" Service Station in West Covina for a period of time.
An opportunity to return to the Eastern Sierra in Bishop occurred in 1971. Dick had the Inyo Shell Service Station and Truck Stop across the highway from the fairgrounds until he retired at 55 years old. He was proud of the fact that he was retired for more years than he worked.
An active member of our community, he leaves behind many good friends from his years in the Bishop Elementary Ski Program, the Lions Club and the Death Valley 49ers. In the Lions Club Dick was the corn dog king. He made thousands of corn dogs through the years for the Lions Club food booth at the Fair Grounds for the many events.
Throughout his life Dick and his family enjoyed trips throughout the southwest. They especially liked their annual trips to Lake Powell and the Colorado River. Dick was an avid deer hunter and fisherman.
He is preceded in death by his wife of 65 years, Sue Carolyn Conn. Dick is survived by sons Peter and Christopher Conn, daughter-in-laws Susan Diez Conn and Amy Conn, and grandsons Nicholas, Andrew and Ryan, his sister Fran LeFever, as well as his dachshund canine companion Penny.
A graveside service will be held 9:00 AM, Tuesday, April 12, 2016 at East Line Street Cemetery, Bishop.