Richard Earl Coffman
1946-2016
Richard Earl Coffman (Rich) passed away on Wednesday, July 20 at the age of 70 after a 2 year battle with cancer.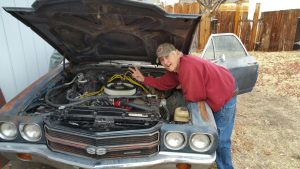 He was born on June 6, 1946 in Peoria, Illinois. Richard's family moved to Lancaster, California in 1958 and he began employment with Cal Trans in 1971.
In 1973, Richard married Coni Hubble and, in 1978, they established a home in the Big Pine area for 38 years.
Richard retired from Cal Trans in 2007 after 36 years.
Richard and Coni have 2 boys, Greg and Jeff. Richard was very involved with Greg's rodeo activities and Jeff's motorcycling, as well as the Big Pine Little League and the Big Pine Ski Program.
He was an avid hunter, fisherman and, a hugh NASCAR fan.
Richard was a volunteer for the Big Pine Fire Department for over 35 years. During that time, he was a Captain/EMT and president of the Big Pine Firemen Association.
Richard is survived by his wife, Coni of 43 years and his children Greg and wife, Traci of Prineville, Oregon and Jeff of Bishop; grandchildren, Hailey, Caylin, Shayla, Cole and Keeton; brother, Laurence and wife, Laurie of Sanger, Texas; sister-in-law and brother-in- law, Jan and Tim Karwoski of Post Falls, Idaho; lifelong friends, Bob and Kathleen Landers; numerous nieces and nephews.
There will be a celebration of life on Saturday July 30, 2016 at 11:00am at the Big Pine Fire Department.
In lieu of flowers, donations can be made to the Big Pine Firemen's Association, PO Box 382, Big Pine, CA 93513. This appropriate quote was discovered on Richard's desk: "Enjoy life, it has an expiration date"!