Richard (Dick) Bigham was born on May 31, 1930 to Clyde Bigham and Delphine Swanson Bigham in New Hampton, IA. He went to be with Jesus on September 8, 2016 at his home in Big Pine, CA where he had resided with his family for the last 5 years.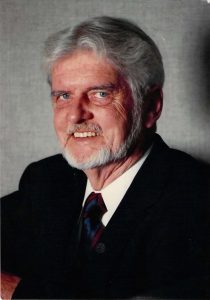 He married Dolores Dawn Price on June 23, 1951 in Aitken, MN. They had four children: Candice Ann, Karen Leigh, Kevin Michael and Brian Patrick.
Dick graduated from Manchester High School in IA in 1948 and loved attending the many reunions of his class. Richard proudly served in the U.S. Army during the Korean War.
He devoted himself to his job as a Mobile Courier for the San Bernardino Blood Bank for 22 years and worked many blood drives all over Southern California.
Dick donated a kidney to his daughter Candice and donated 88 times for a total of 11 gallons of blood to the Blood Bank.
Dick and Dolores lived in Rialto, CA for many years as their children grew up and then moved to Riverside, CA in 1982. He was a Little League and Pony League Coach in Rialto, CA and a member of the Eisenhower High School Gridiron Club.
Upon retirement they traveled all over the United States and into Canada collecting souvenir spoons from each place. A favorite camping place was the Anza Borrego desert.
After the passing of his beloved wife in 2009 Dick moved to Bishop to live with his son Kevin's family and in 2011 they moved to Big Pine.
He attended Calvary Baptist Church in Bishop and loved the monthly "Young at Heart" breakfasts. Dick was a member of the VFW in Bishop and in Big Pine. He also loved his weekly "Old Guys" breakfast at El Ranchito with friends.
One of his greatest joys during his time in Big Pine was watching his grandchildren and great-grandchildren play, grow and thrive. Dick looked forward to the Sunday family gatherings and all the birthday parties.
He could often be found on the front porch enjoying the view, shooting the breeze with friends and family and reading to the great-grandkids.
He had frequent visits from his "Southern Bigham" clan and loved seeing all 3 kids, 12 grandkids and 12 great-grandkids in one place adventuring together.
As his granddaughter Briana stated, "We will all miss his stories, his beautiful blue eyes and his deep, deep love for his family."
He was preceded in death by his daughter Candice and his wife Dolores.
He is survived by his daughter Karen (Dennis) Tomlinson, his sons Kevin (Julie) and Brian (Kim); grandchildren Eric Keast, Trace Lewis (Shawna), Kage (Linda), Ryan (Jean), John, Daniel (Anna), Boomer (Vanessa), Briana, Ashden, Landen, Riah, and Shasta. Great-Grandchildren Atticus Lewis, Havana, Maya and Olive Hart, Elizabeth, Madelyne, Kennedy, Joelle, Wyatt, Daniel, Brooke and Eleana Bigham.
Dick's family would like to thank Pioneer Home Health Care for their excellent care and support during his illness.
A memorial service at the Riverside National Cemetery will be held on Monday, September 19th at 1:45 PM, staging area 4 in Riverside, CA.