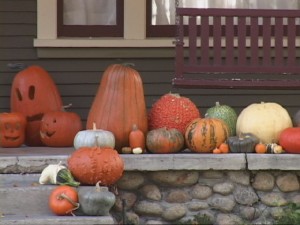 The grinches who stole Halloween deprived a string of people of joy this fall season.
Mary Baker of Bishop explained that every year she and her husband travel around California to buy 60 to 80 pumpkins of many varieties, from the size of a quarter to 165 pounds. Then, they display the big veggies on the porch. Local kids like to come and see them. Mary gives talks to students on the varieties of pumpkins. Then, after a month or so of display, the pumpkins go to the Senior Center to be eaten. Lots of benefit for lots of people.
This year, however, Mary reports that someone stole half of the pumpkins. She wants these people to understand there are consequences for stealing and depriving others. "We will pursue this," said Mary, who has offered a $100 reward for information leading to the return of the pumpkins and/ or the arrest of the thieves.
Mary found four of her special pumpkins smashed on local roads. If you know anything about this pumpkin caper, call Bishop Police or Mary Baker at 873-5689.