– CHP press release
On Friday evening, July 11, 2014, the California Highway Patrol's (CHP) Bridgeport Area conducted its previously announced Driving Under the Influence (DUI) Checkpoint.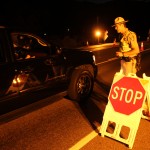 The checkpoint location was US 395 at Hackney Drive, Walker, California.  Between 5:50 PM and 10:45 PM, 591 drivers entered the checkpoint where officers briefly spoke with them to determine if further evaluation was required.
 Five drivers were directed to a safe area adjacent to the checkpoint for further evaluation.  Drivers in possession of their driver license and not requiring further evaluation were delayed at the checkpoint for between 90 seconds and 5 minutes.
Of the 591 drivers contacted, eight were issued citations for being unlicensed or driving with a suspended driving privilege.  No vehicles were towed or impounded.  Arrangements were made to have friends or family pick-up the eight unlicensed drivers.  No arrests were made.
"Our personnel spoke with a lot a drivers in just under five hours.  Licensed drivers who had not been drinking experienced minimal delays.  I was happy to see both the public cooperation and that no drivers were arrested for having made poor decisions related to vehicle operation coupled with alcohol or drug use," said Lieutenant R. D. Cohan, commander of the CHP Bridgeport Area office.