The following is a restaurant review by Sierra Wave's Dennis Mattinson:
Rafters Restaurant and Lounge in Mammoth Lakes, has been brought back to life by the owners, Jim and Nancy Demetriades.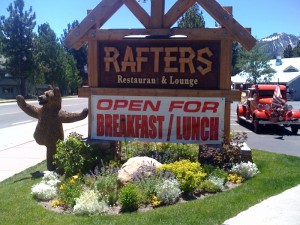 I had heard about this place from our listeners, so off I went to taste the food and feel the service. Upon arrival, I met the Manager, Jack Carter and a little later, the Executive Chef, Kerry Mechler. I sat down at a booth across from the fire place.
 It was late Sunday morning and a good time to try a breakfast / lunch combo with a little wine. I must say that the innovative cuisine offered on the menu was tantalizing. Breakfast appetizers ranged from West Coast Oysters on the half shell with a Kumquat Serrano Chile sauce< TO> Warm Baked Brie with Granny Smith Apples, Dried Cherries and Toasted Almonds. Breakfast Mains offered items like Tiger Prawn Asparagus Scramble with Avocado, White Cheddar and roasted potatoes.
 The Lunch menu was equally interesting with offerings of homemade Thin Crust Pizza, Lou LaGuardia's (made in Bishop) Spicy Sausage sandwich with Roasted Peppers, Tomato and Burrata Cheese <ALSO> Grilled Organic Scottish Salmon. So what to choose? I started with the West Coast Oysters (flown in regularly for maximum freshness) then the Tiger Prawn Scramble.  Boy the oysters were great and the Kumquat sauce was the perfect dip to wash down the oysters. 
Before long my waiter, Troy showed up with the Tiger Prawn scramble. The prawns were fresh and the eggs were scrambled just right, not to firm. The Avocado and asparagus added the right complexity to the dish. Soon the Lou LaGuardia, sausage sandwich showed up. Man, the sausage was rich and spicy with a great finish on the Pallet.
With all of this, Chip, the wine expert, brought over a sampling of Roses from Italy and Germany. The first, a Schnaitmann "Evoe" 2010 from Germany, was light and fruity with a touch of spice, great with the eggs. The Second, a Ricasoli "Alba" 2009 Toscana from Italy, was more complex, fresh/clean with great fruit and underlying complexity, wonderful with the sausage. Finally Chip offered up a fabulous summer red from the John Alan Winery in Paso Robles. This wine was called the "Malcontent" and was an unusual blend of Malbec, Zinfandel and Petite Verdot. This wine offered up a wonderful nose of fruit with a seamless texture of black fruit and creamy chocolate. It went perfect with my finisher cheese plate of Mt. Tam, Bermuda Triangle, Point Reyes Blue and an over the top Manchego.
If you like great service, wonderful freshly made food, a truly unique wine list (with good pricing) in a mountain atmosphere; I would recommend trying this upscale restaurant.
Rafters is located in the Town of Mammoth Lakes, at 202 Old Mammoth Road next to the Sierra Nevada Lodge. Hour of business are Breakfast 6:30 to 11:30, Lunch 11:30 to 2:00 and Dinner 5:00 to 9:00. Rafters phone number is 760 934 9431.