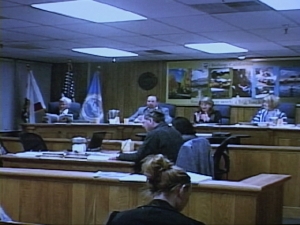 What should the Bishop City Council do in cases of emergency and disaster? In February, a day-long police stand-off with a man believed armed and ready to shoot officers raised that question for council members. Friday, they will hold a special meeting to address their responsibilities in emergencies.
The agenda item says National Incident Management System Training. This government-approved system explains how local officials need to be aware of when to work on emergency declarations, disaster recovery programs, assistance to citizens during emergencies and public safety concerns related to regular decisions during the year.
City Administrator Keith Caldwell said the stand-off incident at the Shady Rest Trailer Park caused City Council members to question their roles in such emergencies. In that case, Caldwell said, a cooperative effort involved Bishop Police, Inyo Sheriff's deputies, the Highway Patrol, Eastern Sierra Transit, and Inyo Health and Human Services. Council members were notified but did not have to take an active role.
At their meeting Friday, the Council will hear from Bishop Police Chief Chris Carter and Bishop Fire Chief Ray Seguine who will describe their own roles in emergencies and who would contact the Council. Administrator Caldwell said usually the Chiefs take the lead and coordinate with other agencies. Caldwell said many issues fall back to him like acquisition of emergency funds if needed.
Caldwell said since there are two new council members and a past lack of emergencies in the City of Bishop, the session Friday will familiarize the Council with the official national system of response. The special meeting was scheduled for 9 am in the City Hall Executive Conference Room.