At 3:30 Monday morning, fire broke out in a home on Mt. Whitney Drive in Lone Pine.  Within minutes across town, a resident of that home working the graveyard shift collapsed and died at Southern Inyo Hospital. This tragic story started with the house fire and continues with an investigation.
According to the Inyo Sheriff's Office, three adults lived in the home which was a total loss.  Lone Pine Fire Chief Leroy Kritz said five fire engines responded from the Lone Pine Volunteer Fire Department with an ambulance on stand-by.  No one in the home was injured.  Chief Kritz said the crews stayed on the fire from about 4am to 8am.  He said CalFire would send someone up to investigate.
With other homes close by in the neighborhood, firefighters managed to contain the blaze to one home.  Chief Kritz said it was fortunate there was no wind.  He said the house was totally gutted by fire.
Meanwhile, a resident of that home, 48-year-old Antoinette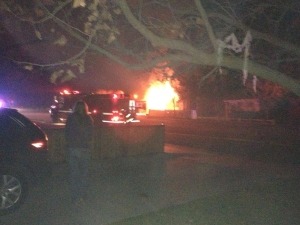 Barlett, was at work at the Best Western Motel south of town.  Reports indicated that her mother, Geraldine Dodd, also a resident of the burned home, tried to contact her daughter.  No one answered at the motel.
Later it was discovered that Ms. Bartlett had collapsed in the kitchen of the Best Western, less than an hour after her home caught on fire.  Reports said Ms. Bartlett was transported to Southern Inyo Hospital where she was pronounced deceased. A very difficult time for Ms. Dodd who lost her daughter and all of her possessions.
Deputy Coroner and Investigator in Lone Pine, Jeff Mullenhour, said this death is under investigation.  He confirmed that Ms. Barlett was a resident of the home destroyed by fire but was not there at the time.