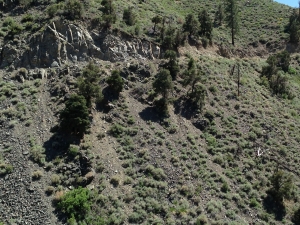 On the afternoon of Saturday, June 1, 2013, at approximately 4:45 pm, Mono County Sheriff's Dispatch received a 911 call regarding an ATV rider who had possibly driven off a cliff in the Walker area.
Mono County Sheriff's Deputies, Antelope Valley Fire Department, Mountain Warfare Training Center (MWTC) Fire Department and Mono County Paramedics responded to the scene. Upon arrival, it was determined that the ATV had gone over a cliff and down a ravine near the intersection of Camp Antelope Road and Bircham Flats Road in Walker. The ATV traveled down a slope, coming to rest in a large rock formation at the bottom of the ravine.
The victim was carried out by fire and medic personnel and then transported via ATV to Bircham Flats Road where he was then transported to a Care Flight helicopter. He was transported to Renown Medical Center in Reno for several broken bones and other injuries related to the crash.
Written and prepared by: Jennifer Hansen, Public Information Officer