Mono County Sheriff's press release
On the afternoon of Saturday, June 21, 2014, at approximately 3:10 pm, Mono County Sheriff's Dispatch received a call regarding a mutual aid request from the Tuolumne County Sheriff's Office for a stranded backpacker at the Mono County/Tuolumne County line.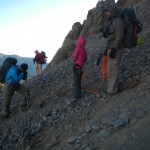 While on a three-day backpacking trip, a female backpacker slid down a snowfield just west of the Mono County/Tuolumne County border, approximately six (6) miles south of Highway 108 (Sonora Pass). Due to her precarious situation on the edge of a cliff, her climbing partner called via cellphone for assistance.
The Mono County Sheriff's Search and Rescue (SAR) Team was dispatched to aid the stranded backpacker. A California Highway Patrol (CHP) H40 helicopter from Fresno was also requested to insert two Tuolumne County technical search and rescue personnel who were able to reach the uninjured but stranded backpacker right before the sun set on Saturday evening. Mono County SAR personnel hiked to their location during the night to bring additional rescue gear and overnight gear to all rescue personnel.
On the morning of Sunday, June 22, 2014, all parties hiked out to the search and rescue base at Leavitt Lake.
###
CHP press release
On Monday, June 23, 2014, at approximately 1:15 PM, Mr. Rosalio Castillo, 66, of San Jose, California, was riding a 2012 Harley Davidson motorcycle traveling eastbound on State Route (SR) 108 at approximately 30 miles per hour.
As Mr. Castillo attempted to negotiate the curved roadway, he lost control, traveled onto the dirt shoulder and was ejected from the motorcycle.  California Highway Patrol (CHP) Bridgeport Area officers, Marine Warfare Training Center Fire Department personnel and Mono County Paramedic Fire/Rescue personnel responded to the scene.  California Department of Transportation personnel responded and assisted with traffic control.
Mr. Castillo sustained moderate injuries as a result of the collision and was transported to Carson Valley Medical Center for treatment.
With summer months upon us the CHP would like to take this opportunity to encourage motorcycle riders to enjoy the nice weather responsibly.  Please wear a helmet, use protective safety gear (gloves, boots, etc.) and never ride impaired.