Sources close to Town government once more have reported that department heads and others remain on the chopping block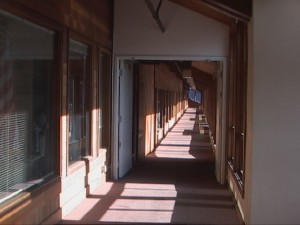 for potential budget cuts. Other sources have indicated that the Town Council may actually eliminate several department heads positions. One thing is for sure, Town Manager Rob Clark said that he will issue a memo Wednesday afternoon with positions he recommends for layoff if the Council wants to go that direction.
After Monday night's Special Town Council meeting and closed session on labor matters, Manager Clark said there was nothing reported out of that session. Clark clarified that he would issue a memo Wednesday that would recommend positions for layoff if the Town Council heads in that direction to balance the budget.
As we reported yesterday, Manager Clark's agenda bill for the Town Council meeting Wednesday indicated that there is no longer a $1.5 million shortfall. He says various factors have reduced the deficit down to around $717,000. Clark gives six options for balancing that deficit, including layoffs and employee concessions.
Mayor Skip Harvey said that the town manager "has some direction but there still may be questions of how to carry things out." Mayor Harvey said that by approving the budget, the Council would approve positions. He called the whole process "very, very tough."
Other usually reliable sources reported that the Council may even consider elimination of several department heads positions. Named recently and earlier are Assistant Town Manager Karen Johnston, Finance Director Brad Koehn, and Human Resources/ Risk Management Director Michael Grossblatt. Reports indicated the possibility that at least those three might be gone by November 1st.
More expected at tonight's Town Council meeting, 6pm in Suite Z. The budget hearing is the third item on the agenda.