Inyo Assistant District Attorney Mark Johnson had been placed on administrative leave in mid-June, and now sources close to the situation say Mr. Johnson will retire.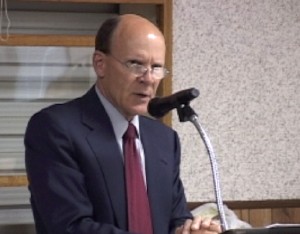 Before the June election, Johnson made 1,000 documents available to news media. The documents were all about his boss's political opponent, Gerard Harvey. Many of the documents were confidential. Inyo County investigated the manner of release of the pages and other issues surrounding the situation.
Johnson had told Sierra Wave that he released the documents to show misconduct by Harvey, even though in only one case were charges filed and there were ultimately no convictions.
County officials declined to say if Johnson's employment status were related to the released documents. In more recent days, rumors circulated that Johnson would resign. A reliable source close to the situation now says the Assistant DA will retire.
Earlier, when asked if Johnson would leave the DA's office, County Counsel Randy Keller said he could not comment on personnel matters. Inyo County Administrator Kevin Carunchio said the same thing. District Attorney Art Maillet has returned none of our calls since before the election.
Meanwhile, the DA's office faces a busy court calendar. The Louis Leplat murder case will be tried in Ventura on a Change of Venue starting August 16th for four weeks. Another murder case is pending – that of 17-year-old Edward Keller. It is reported that Deputy DA Joel Samuels may handle that case